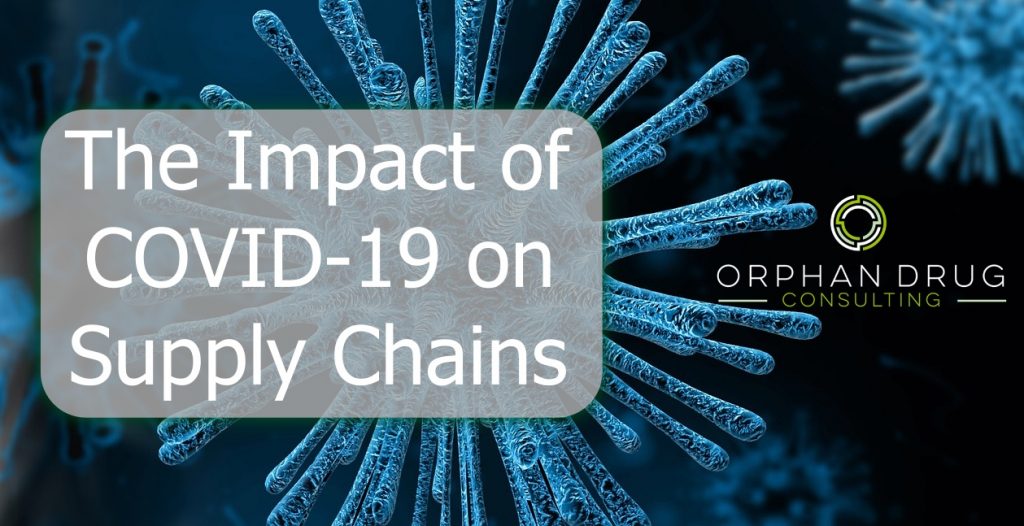 On 31st of December 2019, a cluster of pneumonia cases with unknown aetiology were reported in Wuhan, China. At the time, healthcare professionals could not identify the causative agent for these seemingly related incidents but on the 7th of January the Chinese authorities confirmed a novel coronavirus (nCoV) was responsible for the disease. This virus is now known as SARS-CoV-2, and the resulting disease presenting in patients infected with this coronavirus is known as COVID-19.
SARS-CoV-2 has gone on to infect more than 200,000 people in 170 countries worldwide, causing over 8,000 deaths, and COVID-19 was officially declared a pandemic by the World Health Organization (WHO) on the 11th of March 2020. In response to the growing infection rates of this virus, we have seen unprecedented measures being brought into countries such as Italy and China where mass quarantine conditions have been introduced to curb the spread of infection. It is too early to quantify the full impact of COVID-19 on the global economy, however recent analysis by McKinsey & Company has predicted three potential scenarios: "quick recovery", "global slowdown" and "pandemic and recession". In each scenario, a range of factors are considered such as controlling the spread of COVID-19, individual governmental responses and the transmissibility of the virus over time. The most pessimistic scenario of the three, ("pandemic and recession") predicts global growth in 2020 falling to between –1.5% and 0.5% with a resulting recession.
Indian and Chinese Pharmaceutical Supply Chains
The distribution of pharmaceuticals is a complex process with materials often being transported to multiple different countries before ever reaching patients. Players involved in this process can include active pharmaceutical ingredient (API) manufacturers, contract manufacturing organizations (CMO's), primary packagers, secondary packagers, wholesale distributors and patient-facing organizations such as hospitals and pharmacies. While many of the larger pharmaceutical companies may have a large proportion of production in-house, smaller companies may be entirely outsourced for their production needs. This supply chain is also guided by stringent procedures to prevent occurrences like the introduction of falsified medicines and batch failure resulting from uncontrolled environmental conditions, making it even more challenging to navigate.
Many biopharmaceuticals may be manufactured in USA and Europe but when it comes to generic pharmaceuticals there are two main players in the pharmaceutical manufacturing industry that account for a significant portion of global medicine production – China and India. At present, approximately 20% of the world's API's are produced in China which makes it the global leader with an annual production capacity exceeding 2 million tons. India is currently the largest worldwide supplier of generic medicines which account for 20% of global exports in terms of volume, supplying over 50% of worldwide demand for various vaccines, 40% of generic demand in the US and 25% of all medicine in UK.
What is important to consider is that while both countries have not seen the same effects of COVID-19, they are linked through their supply chains so one can impact the other. Currently India has less than 160 confirmed cases of COVID-19, while China has been the worst hit country globally with over 80,000 cases which has led to mass quarantines and restriction of movement of millions of people. The issue with supply comes from the fact that India imports approximately 70% of API's required for production of medicines from China. The 14-day quarantine period associated with COVID-19 and closure of factories in China poses a risk to this supply chain. In general, Indian pharmaceutical companies keep 2-3 months of safety stock regardless, as a contingency to potential supply issues from China. However, recent restrictions imposed by the Indian government on the export of pharmaceuticals poses a potential risk to global supply chains. Even with pharmaceutical companies in India lobbying to have these restrictions lifted, at present there is a list of 26 different API's including multiple antibiotics, hormones and vitamins that the government has temporarily restricted export of so that their domestic needs can be accounted for first. The date at which this restriction will be lifted is currently unknown which has led to uncertainty in global markets.
The European Medicines Agency's Response to Potential Disruptions in Supply Chain
The European Medicines Agency (EMA) has implemented several plans and procedures to support the industry in the fight against COVID-19:
4th February 2020: the EMA activated its Health Threats Plan in order to coordinate efforts for the fast-track of potential vaccines and treatments for COVID-19.
10th March 2020: the European regulatory network of national competent authorities began formally assessing the impact COVID-19 could have on pharmaceutical supply chains.
11th March 2020: to reduce potential spread of infection the EMA begins holding virtual committee and working party meetings in place of face-to-face.
 12th March 2020: fees associated with scientific advice are waived for companies working in treatments and vaccines for COVID-19.
While this is a volatile and unprecedented situation, it is important to note that as of 10th March 2020 there are no reported supply chain disruptions or medication shortages in Europe linked to the spread of COVID-19. As part of the EMA's efforts to maintain supply chains, an executive steering group is set to identify and coordinate EU-level measures in response to this pandemic. This group is made up of representatives from multiple agencies/departments including the European Commission, the EMA, national medicines agencies, the CMDh (Coordination Group for Mutual Recognition and Decentralised Procedures – Human) and the CMDv (Coordination Group for Mutual Recognition and Decentralised Procedures – Veterinary). Organisations are now being asked to perform risk assessments on their supply chains to identify potential weak spots before they become an issue. The EMA itself is also reviewing manufacturing information on centrally authorised medicines to proactively identify supply risks. In order to maintain a clear and consistent method of communication, the single point of contact network is to be utilised during this outbreak. This network began piloting in April 2019 as a means to improve information sharing between EU member states, the EMA and the European Commission on the supply of medicines.
Business Continuity
Many companies will have business continuity programmes in place already as part of an overall company risk and resiliency programme. These programmes help facilitate the management of and recovery from crises or disruptions such as we are currently experiencing and are there to ensure that essential functions and operations can continue. Larger companies in our industry will often benefit from having a mature suite of standard operating procedures and significant cross training of staff. Smaller companies may often be highly dependent upon key individuals which can present risk.
Orphan Drug Consulting, through its Supply Chain team, are keeping abreast of the current situation and advising its clients accordingly. Having established supply chain strategies for multiple clients, risk mitigation through implementing second source strategies, strategic safety stock programmes and alternate shipping route qualification, such programmes are now demonstrating their value.
Orphan Drug Consulting remains committed to doing all it can to mitigate supply issues for its clients and we encourage any company who would benefit from our guidance to reach out to us and avail of free advice during this challenging period.
DISCLAIMER:
The information presented within this blog is for illustration purposes only and is not to be considered as professional advice. Any information related to health contained within this article is not a substitute for appropriate medical advice from licensed healthcare professionals.
References
https://dcatvci.org/6389-eu-moves-to-mitigate-potential-disruptions-in-drug-supply
https://economictimes.indiatimes.com/industry/healthcare/biotech/pharmaceuticals/pharma-cos-ask-govt-to-lift-apis-export-restrictions/articleshow/74558607.cms?from=mdr
https://www.cdc.gov/coronavirus/2019-ncov/summary.html
https://www.ema.europa.eu/en/human-regulatory/overview/public-health-threats/coronavirus-disease-covid-19
https://www.ema.europa.eu/en/human-regulatory/post-authorisation/availability-medicines#eu-level-coordination-on-medicines-availability-section
https://www.fiercepharma.com/manufacturing/india-s-restrictions-api-exports-only-temporary-official-says-report
https://www.ibef.org/industry/indian-pharmaceuticals-industry-analysis-presentation
https://www.mckinsey.com/business-functions/risk/our-insights/covid-19-implications-for-business?_lrsc=7a8a3dca-f296-4baa-b099-d7e27428efcd&cid=other-soc-lke
https://www.nejm.org/doi/full/10.1056/NEJMoa2001191
https://www.pwc.com/gx/en/pharma-life-sciences/pharma-2020/assets/pharma-2020-supplying-the-future.pdf
https://www.thelancet.com/journals/lancet/article/PIIS0140-6736(20)30459-1/fulltext
https://www.who.int/emergencies/diseases/novel-coronavirus-2019/technical-guidance/naming-the-coronavirus-disease-(covid-2019)-and-the-virus-that-causes-it
https://www.who.int/phi/publications/2081China020517.pdf
https://www.worldometers.info/coronavirus/